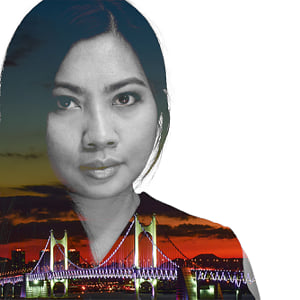 Laura Raymond
Biography
To read my blog, please visit www.lrphotog.net
Hello everyone! I am Laura Raymond of LR Photography. My family and I are Malaysians and we moved to Busan in 2012. *I am originally from the state of Sabah, located in Borneo Island part of Malaysia while our actual home is in Penang, where my husband is from.​
Welcome to my portfolio page and I hope you find my work lovely, real and personal as how I want to convey my passion in portraiture photography. Working with me is never boring because I always want to bring out the best side of you in your photographs regardless of your age, body, gender and nationality.
My initial motivation was to go into serious portraiture photography without relying on my family as my only published works. What came next were just bonuses. My most favourite part of the job is being able to meet with people from all over the world in just one place and then giving them joy with their amazing photographs they can keep as memories for years to come.
As a big fan of interior design, I am also passionate about interior photography. Its a very different technique but I love the challenge of bringing life to what seems to be lifeless inanimate objects. I believe the kind of space you live in influence you as a person in time.
When I'm not taking photos, I cook, study languages, read, marathon Kdramas, and travel on the weekends. I was a quality engineer for 10 years before relocating and although it was hard to leave the job, I'm glad I did because I wouldn't have seriously considered professional photography which I only dreamed of for years.
I am fluent in English and Malay. I do converse in basic Korean, nothing too difficult though.
안녕하세요. 저는 로라라고 부산에 사진 작가 입니다. 저의 오랜 꿈과 그리움은 사람들의 아름다운 사진을 찍는 것입니다. 솔로와 커플과 가족과 어린이든의 사진을 찍을수 있습니다. 영원한 기억을 만들어 드릴게요.
Looking forward to see you and document your story.
Instagram ID: laurapenang Telephone number: 010 6869 1756 (South Korea)
Contact